Branch Sponsors First $tart $mart Workshop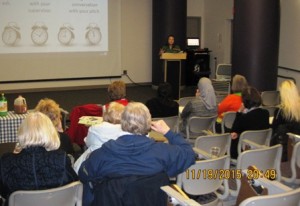 White women working full time in the United States are typically paid 79% of what white men make in comparable jobs – and the gap is much worse for women of color. AAUW has been lobbying for legislation to help close that gap for many years; we were one of the organizations that successfully persuaded Congress to pass the Lilly Ledbetter Fair Pay Act of 2009. Now, the $tart $mart salary negotiation workshops have been developed to directly empower women with the skills and confidence to successfully negotiate their salary and benefits packages. By learning strategies and practicing effective language, participants gain valuable skills they can use throughout their lives — well beyond their next negotiation.
The workshops cover topics such as "Know Your Value," "Identify a Target Salary and Benefits Package," and "Know Your Strategy." Participants get resources for benchmarking reasonable salaries and benefits, negotiation skills that teach them how to aim high and be realistic including practice through role play, and determining a bottom line by developing a bare-bones budget to cover rent, groceries, student loan repayments, and other basic expenses.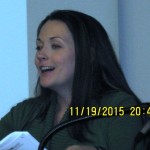 At the beginning of 2015 Ellen Lassiter Collier, Program Coordinator of the Eastern Michigan University Women's Resource Center, became a licensed $tart $mart trainer, with help from the Ann Arbor branch. Her first workshop, in April, was for EMU graduating students. On November 19 the Ann Arbor branch, the Washtenaw County chapter of NOW, and EMU's Department of Women's and Gender Studies collaborated to present another workshop in the EMU Halle Library that was open to members of the community. Among the attendees were several students from the University of Michigan and three members of the AAUW Rochester branch.