Information about NCCWSL (National Conference for College Women Student Leaders), including the application for scholarships, available

here

---
Calling all AAUW foodies!
Wednesday, February 17 via Zoom
Gathering and socializing: 7:15 PM
Come to the Zoom Room early and chat with friends before the program begins
Program: 7:30 PM
Topic: How I Learned to Stop Worrying and Love the American Cheese: Food, Status, and the Myth of Virtuous Consumption
Speaker: Margot Finn
U-M Lecturer Margot Finn will walk through the main argument of her 2017 book Discriminating Taste: How class anxiety created the American food revolution, where she makes the case that by cultivating what we eat, and how we eat, and how we talk about what we eat, we can perform and embody a desirable class identity.
Margot Finn received her Ph.D. in American Culture from the University of Michigan, where she teaches undergraduate courses on food studies, obesity, and the history and philosophy of liberal education as a LEO Lecturer.
---

"In this rollicking, riveting celebration of lifespan feminism, Douglas critiques the gendered ageism of Big Pharma, cosmetics-pushers, and Hollywood, savages mansplaining statistics, and urges boomer women to take to the barricades to safeguard the nation's social and financial safety net. In Our Prime is personal, powerful, and persuasive. A must-read." – Kathleen Jamieson, director, Annenberg Public Policy Center, University of Pennsylvania
In Our Prime is available in hardcover locally at Literati and Nicola's bookstores, from Amazon.com, and the Ann Arbor Public Library, and digitally from the Ypsilanti Public Library. The paperback edition can be pre-ordered for scheduled release March 2.
To receive the Zoom Invitation to the Pop Up Book Club, click here!
---
AAUW Action Network Alerts
Sign up for AAUW Action Network Alerts by visiting the AAUW Take Action website below, scrolling to the bottom, and entering your email information.
---
The AAUW Ann Arbor Book Sale raises money for scholarships and supports the mission of AAUW. If you would like to support AAUW Ann Arbor in these efforts, a donation can be made either by mail or online. The AAUW Ann Arbor Branch is a 501 (C)(3) non-profit organization ; therefore, your donation may be tax deductible. Your
contributions are appreciated!
To donate by mail, send your check made payable to AAUW Ann Arbor Branch with Book Sale Fund noted on the memo line to:
AAUW Ann Arbor Branch
c/o Financial Treasurer
P.O. Box 2806
Ann Arbor, MI 48106
To donate online, please click on the yellow "Donate" button below.
---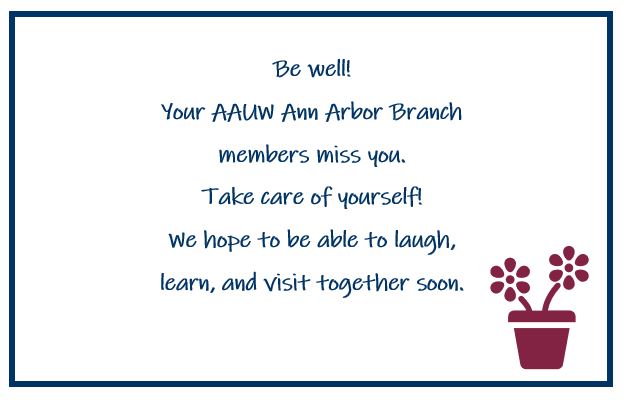 ---
---
---
The 100th Birthday of the 19th Amendment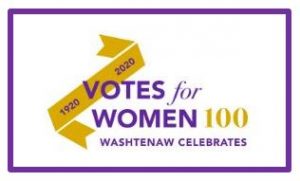 AAUW Ann Arbor celebrated the 100th birthday of the 19th Amendment with speaker Elizabeth Homer. Discover more events across Washtenaw County all year at votesforwomen100.org.

---
Get Paid What You're Worth:


Start your free, online salary negotiation workshop
You deserve a raise. This free online course will give you the tools you need to successfully negotiate and close the pay gap for women everywhere. Register today!
---
Lucy Ann Lance Show Interview
Lucy Ann Lance interviewed President Elect Monica Gobba, Book Sale Chair Kathleen Kubis, and entrepreneur Marlo Gobba. Listen as they discuss the Ann Arbor chapter, Annual Book Sale, Interest Groups, Digital Divas, and Twilight Bark Organic Dog Treats.  Link to full interview: https://www.lucyannlance.com/audio/082619/a2y.mp3