Winter Awards Luncheon


Wednesday, December 13
11:30 AM Check-in
11:45 Luncheon served 
12:30 PM Program
Celebrate our AAUW scholars, our C/U partners and a new Named Gift Honoree. Donate to AAUW/Branch missions and hear Eileen Spring, President/CEO of Food Gatherers speak. Advance reservation and
prepayment for lunch are required.

We will be having collection boxes for Food Gatherers available for donations at our Winter Luncheon on December 13th.

What Foods/Personal Care Items Are Accepted:

Food Gatherers accepts donations of perishable and non-perishable foods, as well as non-food items. We follow federal, state, and local food safety regulations, and comply with additional standards to ensure the safety and health of the recipients. Please note the donation guidelines for the following items:

● Canned and dry goods: Unopened and in their original packaging, labeled with ingredients and allergens, in good condition (no dents, bulging
or rust), within 1 year past the use-by date.

● Personal care items: We accept unused personal hygiene products in their original packaging. We also accept cleaning supplies, hand sanitizer, and personal protective equipment (PPE).

● Checks are always accepted – please write the check out to Food Gatherers.
An envelope for check donations will be at the
table where name tags are picked up.

---

100th Annual AAUW Michigan Convention

AAUW Ann Arbor members attended the 100th Annual
AAUW Michigan Convention

Constance Dickinson presenting 50 year certificate
to Connie Olson.

Constance Dickinson presenting 50 year certificate
to Meg Brown. 
---
---
---
Letter from AAUW Chief Executive Officer Kim Churches to AAUW Ann Arbor Branch

"WOW –

I just le

arned from our team that your branch made a ver

y generous dona

tion to our Greatest Needs Fund. I'm so grateful to each and every one of the Ann Arbor Branch members…"
Read the entire letter here.
---
AAUW Action Network Alerts
Sign up for AAUW Action Network Alerts by visiting the AAUW Take Action website below, scrolling to the bottom, and entering your email information.
---
The AAUW Ann Arbor Used Book Sale returned this year when the 68th sale was held 
September 9-11, 2022!
AAUW Ann Arbor's 69th Used Book Sale will be held September 8-10, 2023.
The AAUW Ann Arbor Book Sale raises money for scholarships and supports the mission of AAUW. If you would like to support AAUW Ann Arbor in these efforts, a donation can be made either by mail or online. The AAUW Ann Arbor Branch is a 501 (C)(3) non-profit organization ; therefore, your donation may be tax deductible. Your
contributions are appreciated!
To donate by mail, send your check made payable to AAUW Ann Arbor Branch with Book Sale Fund noted on the memo line to:
AAUW Ann Arbor Branch
c/o Financial Treasurer
P.O. Box 2806
Ann Arbor, MI 48106
To donate online, please click on the yellow "Donate" button below.
---
The 100th Birthday of the 19th Amendment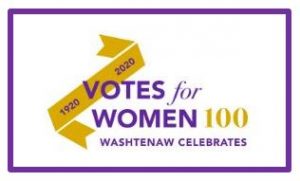 AAUW Ann Arbor celebrated the 100th birthday of the 19th Amendment with speaker Elizabeth Homer. Discover more events across Washtenaw County all year at votesforwomen100.org.

---
Get Paid What You're Worth:


Start your free, online salary negotiation workshop
You deserve a raise. This free online course will give you the tools you need to successfully negotiate and close the pay gap for women everywhere. Register today!
---
Lucy Ann Lance Show Interview
Lucy Ann Lance interviewed President Elect Monica Gobba, Book Sale Chair Kathleen Kubis, and entrepreneur Marlo Gobba. Listen as they discuss the Ann Arbor chapter, Annual Book Sale, Interest Groups, Digital Divas, and Twilight Bark Organic Dog Treats.  Link to full interview: https://www.lucyannlance.com/audio/082619/a2y.mp3