October Branch Meeting
October 20, 2021
Gathering & socializing: 12:15 PM
Program: 12:30 PM

Clifford Lampe is a professor in the UM School of Information. Previously, he spent six years as in the College of Communication Arts and Sciences at Michigan State University. He researches the social and technical structures of large-scale technology mediated communication, working with sites like Facebook, Wikipedia, Slashdot and Everything2. He has also been involved in the creation of multiple social media and community projects, usually designed to enable collective action. He is best known for his research in the fields of human-computer interaction, social computing, and computer supported cooperative work.
---
---
2021 Taiwan Bunun Indigenous Music & Film Festival
October 13-27, virtually and in person
A radio program Pandora's Lunchbox will introduce the festival at 6:30 PM on Thursday, Oct 7 on FM 88.3, and CTN will feature an interview at 6 PM on Friday, October 8 on Comcast Channel 16.
---
Letter from AAUW Chief Executive Officer Kim Churches to AAUW Ann Arbor Branch

"WOW –

I just le

arned from our team that your branch made a ver

y gener

ous donation to our Greatest Needs Fund. I'm so grateful to each and every one of the Ann Arbor Branch members…"
Read the entire letter here.
---
AAUW Action Network Alerts
Sign up for AAUW Action Network Alerts by visiting the AAUW Take Action website below, scrolling to the bottom, and entering your email information.
---
The AAUW Ann Arbor Book Sale raises money for scholarships and supports the mission of AAUW. If you would like to support AAUW Ann Arbor in these efforts, a donation can be made either by mail or online. The AAUW Ann Arbor Branch is a 501 (C)(3) non-profit organization ; therefore, your donation may be tax deductible. Your
contributions are appreciated!
To donate by mail, send your check made payable to AAUW Ann Arbor Branch with Book Sale Fund noted on the memo line to:
AAUW Ann Arbor Branch
c/o Financial Treasurer
P.O. Box 2806
Ann Arbor, MI 48106
To donate online, please click on the yellow "Donate" button below.
---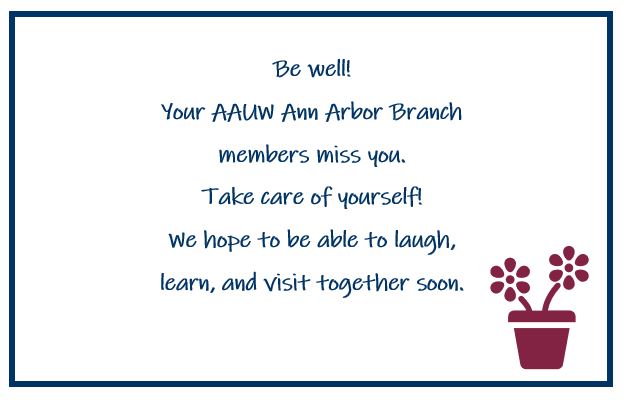 ---
---
---
The 100th Birthday of the 19th Amendment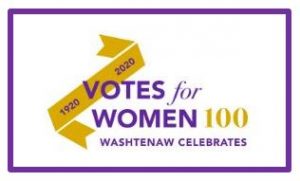 AAUW Ann Arbor celebrated the 100th birthday of the 19th Amendment with speaker Elizabeth Homer. Discover more events across Washtenaw County all year at votesforwomen100.org.

---
Get Paid What You're Worth:


Start your free, online salary negotiation workshop
You deserve a raise. This free online course will give you the tools you need to successfully negotiate and close the pay gap for women everywhere. Register today!
---
Lucy Ann Lance Show Interview
Lucy Ann Lance interviewed President Elect Monica Gobba, Book Sale Chair Kathleen Kubis, and entrepreneur Marlo Gobba. Listen as they discuss the Ann Arbor chapter, Annual Book Sale, Interest Groups, Digital Divas, and Twilight Bark Organic Dog Treats.  Link to full interview: https://www.lucyannlance.com/audio/082619/a2y.mp3