The Ann Arbor Branch's interest groups cover a wide range of topics and activities.  Most of these groups meet monthly from fall to spring. Click here to see the which interest groups are meeting via Zoom or not meeting at all due to COVID-19. 
Members who would like more information about schedules, programs, and contacts can find it in the Members-only area here.  If you have questions, please contact the President-Elect. 
Click here to see a general calendar showing when all the interest groups meet.
Afternoon Book Reviews: 1st Monday, noon
AAUW book lovers meet for lunch in a private room at a local bistro. A member reviews a book of her choice. Q & A follows and members decide if they wish to read the book.  Recent books have included:
•  The Farm by Tom Rob Smith
•  The Year 1000, What Life Was Like at the Turn of the Millennium by Danny Danzinger
•  Vinegar Girl by Ann Tyler
•  In Search of the Trojan War by Michael Wood
•  The Road to Character by David Brooks
•  Victoria by A.N. Wilson
•  Teacher Man by Frank McCourt
Afternoon Bridge:  2nd Monday, 1:15 pm
We meet in members' homes and play rubber bridge for about 2 1/2 hours.  Occasionally we meet at an area restaurant where members purchase lunch (12:30) before commencing to play bridge.
Afternoon Mystery Readers: 3rd Tuesday, 1:00 pm
Mysteries with a light-hearted twist.  Prior to the meeting, members read one or more books of their choice by the month's author, and one member does a presentation on that author.  This group meets year-round.  Recent authors have included:
• Ngaio Marsh (Roderick Alleyn series)
• Ann Cleeves (Vera Stanhope series)
• Colin Cottrell (Dr. Siri series)
• Louise Penny (Armand Gamache series)
• Margery Allingham (Albert Campion series)
•  Miranda James (Cat in the Stacks series)
•  Martin Walker (Bruno series)
•  Sir Arthur Conan Doyle (non-Sherlock Holmes stories)
•  John Grisham (the stand-alone books)
•  Dana Stabenow (Alaska series)
•  Katherine Hall Page (Faith Fairchild series)
•  Barry Maitland (Brock and Kolla series)
•  Laurien Berenson (dog-related mysteries)
Americana: 4th Monday, 1:30 PM. Meets September – November and February – April
Americana examines who, how, and what happened this year 100, 200 years ago and beyond in American history. In 2020-21 we celebrate Women's Suffrage in the US – at last, the 1920 Presidential Election – the year of 6 Presidents, L Frank Baum (the real Wizard of Oz), Daniel Boone – an American Legend, learn about WWJ Newsradio 950, America's Pioneer Broadcasting Station, and the League of Nations. Members research and present topics via Zoom with lively discussion following each presentation. Join us to learn more!
American Heritage: 2nd Wednesday, 1 pm
This is a Michigan and national history group with member presentations and usually a tour at the end of the year.  This year's theme is individual states.
Beginning Golf: Tuesdays, 10:00 AM
Beginning Golf meets June, July and August at 10:00 AM at Georgetown Country Club, a par three walking course.  All levels of golfers are welcome in this supportive and fun interest group.  There is no need for a weekly commitment as we do not function as a league, but on a drop in basis as your schedule permits.
Bibliomaniacs: 4th Thursday, 9:30 am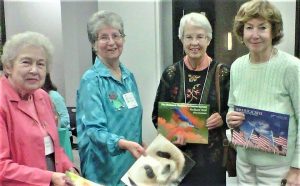 This group is interested in any topic related to books: creating, reading, collecting, housing, and selling. Programs consist of presentations by members or guest authors, or field trips associated with books or libraries. 
Recent topics included:
• Dr Anan Amiri,  Scent of Jasmine 
• Book Illustrator Cathy Gendron
•  The Library of Congress
•  YA author Kristin Lenz, The Art of Holding On and Letting Go
•  On Writing Plays by Colby Halloran, playwright
•  Art Shenanigans & Forgeries
•  Author Stephen Mack Jones, speaking on his Detroit mystery August Snow
•  Author Patrick Flores-Scott, speaking on his YA novel Jumped In
•  Shaping Memoir by Cynthia Furlong Reynolds
•  Homes of English Authors:  Beatrix Potter, A.A. Milne and Rudyard Kipling
•  Art Heists: The Woman in Gold & Others
•  Tour of the Toledo Museum of Art and the Glass Pavilion
Book Exchanges: No Scheduled Meetings
Each member purchases a recently published hardcover fiction or non-fiction book. Books are exchanged according to a pre-arranged schedule divided by geographical locations (east and west Ann Arbor).
Classic Literature: 4th Wednesday, 1 pm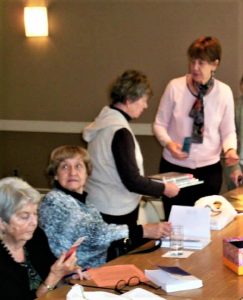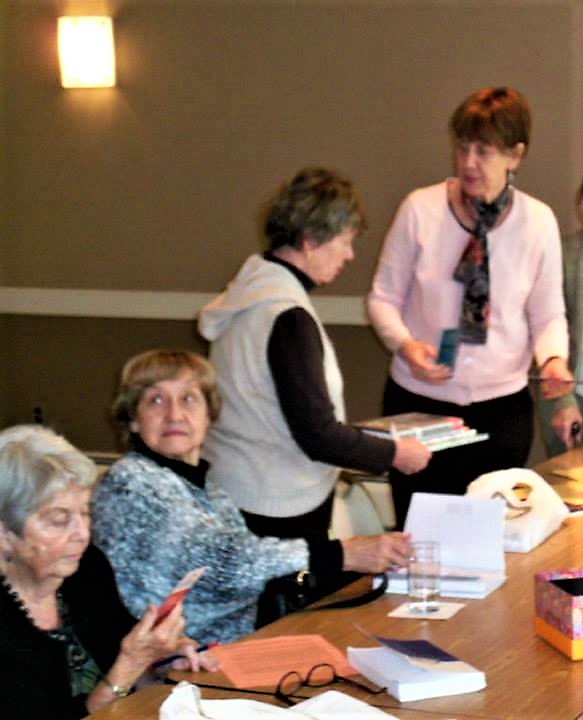 Our scheduled monthly meetings, September through May, excluding November and December, are held at the Ann Arbor City Club. Co Chair Mary Richards leads a summer meeting, usually held in July. We are currently reading selections from the "Short Story Omnibus" by the Great Books Foundation. We choose a longer fiction or non fiction selection to discuss in September. In the past we have read from other Great Books Foundation anthologies which include not only short stories, but also other forms of  fiction and non  fiction literature.  Members lead our discussions.
Couples Gourmet: 1st weekend, Sept-May
Participants meet in sub-groups of 4-5 couples to share meals in the home of different hosting couples four times a year: October, November, April & May. Host provides entrée and beverages; guests bring assigned dishes to complete the meal, often based on a specific theme selected by the hostess. Gatherings may be dinner or brunch. Some years entire group gathers for events in fall, December and June. We welcome new members!
Creative Arts: 2nd and 4th Tuesday, 1 pm
Members bring handwork of their choice to "sit & stitch." Interests range from cross-stitch to beading, knitting, and needlepoint. We share techniques, patterns, and skills. Those who wish to do so knit prosthesis for women with mastectomies and donate them to St. Joe's Breast Cancer Unit. 
Creative Writing Prompts: 1st Tuesday, 1 pm
Writer-members are given a one word prompt and write individually for approximately forty-five minutes, then share their writing verbally.  This is followed by a brief group discussion with some critiquing.
Eclectic Gourmands: 2nd Monday, 12:30 pm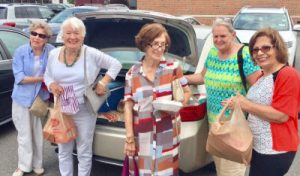 This lunch group meets in members' homes and restaurants to explore various cuisines. A talk on the cuisine and culture accompanies each meal. Members take turns planning, preparing, and researching the foods. 
Recent themes included:
• Fusion Korean at Miss Kim
• Country French
•  Salad Luncheon Potluck
•  An English Lunch
•  Lunch out at Chia Shiang
•  Middle Eastern Cuisine
•  Eating Out: Governor Crosswell Tea Room in Adrian
•  Colombian Food Exchange
•  Elegant Food at the Turn of the Century
•  Fustini's Class on Small Plates Preparation
•  Two Fat Ladies Cook
•  Sharing Favorite Cookbooks
•  Salad Potluck
•  Eating Out:  Miss Kim in Kerrytown
•  Philippine Cuisine
•  All Wrapped Up
•  Christmas Tea and Goodie Exchange
Evening Book Discussion: 3rd Monday 7:30 pm
Discuss modern fiction and non-fiction.  Recent topics include:
News of the World by Paulette Jiles
Where the Crawdads Sing by Delia Owens
The Great Alone by Kristin Hannah
Just Mercy by Bryan Stevenson
Little Fires Everywhere by Celeste Ng
The Tumbling Turner Sisters by Juliette Fay
Reading with Patrick by Michelle Kuo
The Woman in Cabin 10 by Ruth Ware
Symphony for the City of the Dead: Dmitri Shostakovich and the Siege of Leningrad 

by M.T. Anderson

Longbourn by Jo Baker
Daughters of the Samuri by Janice Nimura
A Piece of the World by Christina Baker Kline
Remarkable Creatures by Tracy Chevalier
August Snow by Steven Mack Jones
Lilac Girls by Martha Hall Kelly
Britt-Marie Was Here by Fredrik Backman
Lab Girl by Hope Jahren
Gardening: 1st Wednesday, 7:30 pm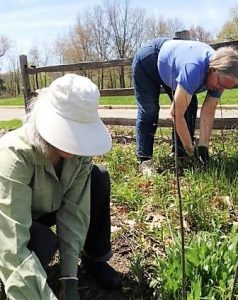 A relaxed, informal group co-occurring with the Ann Arbor Garden Club meeting at Matthaei Botanical Gardens.  This group welcomes anyone with an interest in gardens and has a $20 yearly fee.  Parking fees at the Gardens are $1.60/hour.  Members also get together to take field trips to local nurseries and attend local garden walks. Recent topics include:
• Winter Garden Readiness
• Plant Exchange
•  Pruning
•  Craft projects
•  Composting With a Twist
•  Winter Seed Planting
•  Dutch Spring Gardens
•  Greens Workshop
Genealogy: 2nd Friday, 1 pm
Share knowledge and resources in pursuit of family history. For beginners & advanced researchers.  Future topics include:
• September 13—What I learned during the summer
• October 11—Organization
• November 8—Church Records
• December 13—Holiday Traditions
• January—No Meeting
• February 14—Sharing Problems
• March 13—There are No Dumb Questions
• April 10—Genealogist Sharon Brevoort
• May 10—Year End Planning & Potluck Luncheon
Gourmet Arts: 1st Wednesday, 12:30 pm
Members host and prepare luncheons of soup, salad, and dessert. One event for couples is scheduled during the year.
Great Decisions: 3rd Monday, 1:30 pm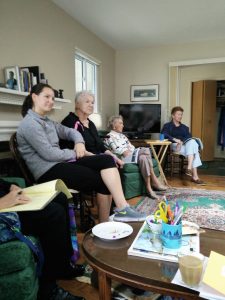 Discussions of foreign policy issues as presented in the Foreign Policy Association's Briefing Book. Participants read the Foreign Policy Association's materials and come prepared to discuss the monthly topic.  Recent topics have included:
• Media and Foreign Policy
•  The Waning of Pax Americana
•  U.S. Global Engagement & the Military
•  Nuclear Security
•  The Future of Europe: Coping with Crisis
•  Trade, Jobs and Politics
•  Conflict in the South China Sea
•  Saudi Arabia in Transition
•  U.S. Foreign Policy and Petroleum
•  Latin America's Political Pendulum
•  Prospects for Afghanistan and Pakistan
•  Nuclear Security: The Enduring Challenge of Nuclear Weapons
Healthy Appetites: 3rd Thursday, 11:45 am
This group's focus is on cooking and eating using healthy ingredients. We meet in members' homes for lunch; the hostess and co-hostess plan the menu using healthy recipes, which are discussed and shared. We also take advantage of culinary workshops and cooking demonstrations. Healthy food seasoned with lots of laughter. Non-hostesses contribute $5-$10 to defray meal preparation costs. 
Recent topics include:

•  Lunch at Casablanca:  Mediterranean/Moroccan Cuisine
•  Valentine's Day and Mardi Gras
•  Gourmet Veggie Buffet
•  Harvest Season Favorites
•  Buffet of Mexican Favorites
History Book Discussion: 2nd Wednesday, 10 am
Books are chosen and discussed which have an emphasis on history, and may relate to politics, science, and the economy. Usually two books are chosen about the U.S., two about Europe, and three from other regions of the world, and at least one of these is a biography.
Recent books include:
• Midnight in Broad Daylight: A Japanese American Family Caught Between Two Worlds
•  The Warmth of Other Suns: The Epic Story of America's Great Migration
•  The Enemy at the Gate: Habsburgs, Ottomans, and the Battle for Europe
•  Citizens: A Chronicle of the French Revolution
•  Short Nights of the Shadow Catcher: The Epic Life and Immortal Photographs of Edward Curtis
•  Africa: Altered States, Ordinary Miracles
•  Invisible Nation: How the Kurds; Quest for Statehood is Shaping Iraq and the Middle East
•  The Long Way Home: An American Journey from Ellis Island to the Great War
•  The Immortal Irishman: The Irish Revolutionary Who Became an American Hero
•  Bent's Fort: A Historical Account of the Adobe Empire That Shaped the Destiny of the American     Southwest
•  Lost to the West: The Forgotten Byzantine Empire That Rescued Western Civilization
•  Inhuman Bondage: The Rise and Fall of Slavery in the New World
•  Daughters of the Samurai: A Journey from East to West and Back
International Dining Out: 2nd Wednesday, 6 pm
The group experiences ethnic cuisine at a different local restaurant each month.  Recent restaurants included:
• Moro's (Italian)
• Asia City
• Marnee Thai
•  Amadeus (Austrian)
•  Everest Sherpa
•  Dalat (Vietnamese)
•  Hana (Korean)
•  Mikette Bistro (French)
•  aMa Bistro (Albanian)
•  KouZina (Greek street food)
•  Palm Palace (Mediterranean)
•  Tio's (Mexican)
•  Miss Kim (Korean)
•  Jamaican Jerk Pit
•  Yee Siang (Chinese Dumplings)
Local Issues: 1st Friday, 2 pm
This group meets with community leaders to learn about and discuss issues that directly affect our lives as Washtenaw County residents. Speakers are drawn from any relevant sector such as government, non-profit, advocacy, and business.
Mah-jongg: 1st Friday, 10 am and 3rd Friday, 1 pm
Ancient Chinese parlor game played with tiles engraved with traditional Chinese drawings and calligraphy.
Download the Mah-Jongg Instructions
Download the Mah-Jongg Scorecard
Moveable Feast: 2nd Tuesday, 6:30 pm
Movable Feast meets for dinner the second Tuesday of each month at 6:30 pm, usually at a member's home.  The hostess is responsible for designing the menu and usually provides the main dish and beverages; two or three other members of the group cook one dish each, using a recipe from the hostess.  Often, but not always, there's a theme (e.g., Moroccan, French, etc.).  During Ann Arbor's restaurant weeks (January and June), we usually meet at one of the participating restaurants instead of in someone's home.  The number of people who attend each meeting varies, ranging from three to a dozen; members may invite guests to expose new people to the group.  The group sometimes provides cookies for AAUW meetings and has also participated in fund raisers (e.g., Mardi Gras Dinner). This all sounds rather dry, but we have a great time together. There's always good food, good wine, and great conversation!
Mystery Readers: 2nd Thursday, 7:30 pm. No meetings July-August
This year we will continue our chronological study of the detective story, focusing on the last 25 years of the 20th century and the start of the 21st century. Each discussion leader selects an author and other group members read stories or books by that author. We will meet by Zoom until members are comfortable resuming in-person meetings.
Scrabble Thursdays: 3rd Thursday, 2:00 pm
Friendly games. New players are always welcome. We meet monthly year-round.
Smart Living: 1st Thursday, 4 pm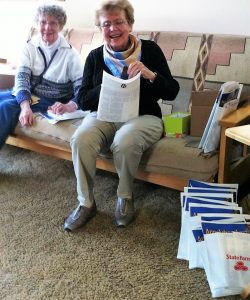 Educate ourselves in order to make sound personal decisions.
Some of the topics we will be exploring in 2019-2020 are: Hazardous waste disposal, What's new in appliances, DTE lighting perks, Credit Union Retirement Investment planning, Ann Arbor Water, Plans for successful aging, Creating personal scholarships at local colleges and investigating community resources that help women and girls:  100+ Women Who Care, and Girls Group.
Recent topics included:
• Digital Training for Online Ordering
•  Senior Care At Home
•  Timely Travel Trips
•  The Importance of Local Banks
•  Travel Tips from a Travel Agent
•  Emergency Student Funding at Washtenaw Community College
•  Local Produce and Meat
•  Downsizing and Moving
•  Money-Saving Tips
•  Funding College Scholarships
•  College Savings Accounts
•  In-Home Care and Senior Residences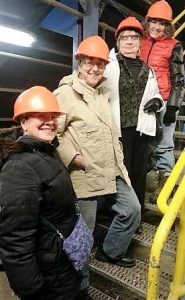 Travelogue: 1st Monday, 7:30 pm
Members share their travel experiences from the United States and abroad with the help of any of the following: computer, slides, pictures, artifacts, videos, brochures, and commentary.  Recent topics included:
•Brazil: Sao Paulo, the Pantanal, & Iguazu
•Around the United Kingdom
•Nepal & India
•Hitch-hiking Alone Through Europe in the 1970s
•30 Days Around Australia
•Ancient Egypt & Today
•Off the Beaten Track West of the Mississippi
•Iceland
•Sweden: Copenhagen
•Holland & Belgium: A River Cruise
•Rome to Sicily
•Botswana, Zambia, Zimbabwe, & South Africa
•Poland
•The Oregon Trail & Other Western Trails