Ann Arbor's Delegation, 2017 Fall Conference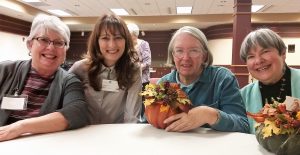 Four leaders from the Ann Arbor Branch attended the Fall 2017 Michigan Leadership Conference and reported that it was "excellent."
From left to right:  Pamela Ehrhart, Yvette Wernick, Betty Bishop, and Mary Mostaghim.
A writeup from the AAUW Michigan website reported after the conference:
"This year's conference focused on the challenges and importance of women in leadership. Denise Brooks Williams, CEO, Henry Ford Health-Wyandotte Downriver, was the keynote speaker. She opened the day sharing her story, and later expanded on some of the broader issues women face breaking through the glass, often cement ceiling of leadership.
Two dynamic panels followed. Both amplified the conference theme "Changing the Face of Leadership." Morning panelists included: Rep. Erika Geiss (moderator), Denise Brooks Williams, Julia A. Pulver (healthcare advocate), Annette May (world's first female certified cicerone), and Mary Pollock, (AAUW-MI Government Relations Coordinator).
Leader Essentials workshops in the afternoon focused on areas of healthcare, recruiting & engaging millennials, fundraising, and the great work our branches are doing in the area of STEM.
After lunch, attendees met AAUW of Michigan's 2017-18 Student Advisory Council and listened to these dynamic younger women's view on leadership challenges encountered by women in a variety of career areas.
The day was capped by a round table discussion facilitated by Janet Watkins, AAUW-MI Program VP, on how branches might share AAUW's latest research report Deeper in Debt: Women and Student Loans with students, parents, schools and the community as part of their branch programs.
Many thanks to the Wyandotte-Downriver Branch and WCCCD Downriver Campus for helping make this year's leadership conference a success!"
---
About the September 30, 2017 Statewide Conference
Innovative Leadership V
Changing The Face Of Leadership

September 30, 2017 (Saturday)
Wayne County Community College District Downriver Campus
21000 Northline Road, Taylor, MI
The AAUW (Michigan) Fall Conference offers attendees the opportunity to enhance leadership skills, network, share best practices, engage with and hear dynamic women leaders who are not only changing the face of leadership but also affecting public and private organizations' profitability, policies, and performance.
This conference is open to all.