March Luncheon
"Telling the Tale:  Growing a Community's Future in Sierra Leone"

Wednesday, March 18, 2020
Lunch at 11:30 AM (Lunch reservations must be made with Social Chairs)
Program at 12:30 PM
Ann Arbor City Club
1830 Washtenaw Avenue


"The presentation will address a Rotary International Project in the Bumpeh Chiefdom in Sierra Leone and a visionary Chief who has prioritized the education of young girls in his community and how he has worked with the Sherbro Foundation, our community partner, to assure that every child receives a secondary education.  This is being realized through the planting of orchards.  Once they are fully fruiting they will net conservatively $50,000 a year, providing a sustainable source of income".  Mary Avrakotos
Mary Avrakotos grew up in a diplomatic family and has traveled the world.  She is a retired Arts Administrator with a special interest in African Art, and currently works as a potter.  She is a member of the International Humanitarian Projects Committee of the Rotary Club of Ann Arbor.
Cheryl Farmer is a physician, recently retired from the practice of General Medicine at  St. Joseph Mercy Hospital.  She served her community on two different City Charter Commissions, and was the Mayor of Ypsilanti for 12 years.  Dr. Farmer is President of Ypsilanti Rotary Club and serves as Treasurer for Sherbro Foundation Sierra Leone.
---
The 100th Birthday of the 19th Amendment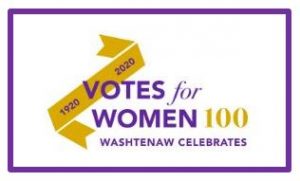 AAUW Ann Arbor celebrated the 100th birthday of the 19th Amendment with speaker Elizabeth Homer. Discover more events across Washtenaw County all year at votesforwomen100.org.

---
Get Paid What You're Worth:


Start your free, online salary negotiation workshop
You deserve a raise. This free online course will give you the tools you need to successfully negotiate and close the pay gap for women everywhere. Register today!
---
Lucy Ann Lance Show Interview
Lucy Ann Lance interviewed President Elect Monica Gobba, Book Sale Chair Kathleen Kubis, and entrepreneur Marlo Gobba. Listen as they discuss the Ann Arbor chapter, Annual Book Sale, Interest Groups, Digital Divas, and Twilight Bark Organic Dog Treats.  Link to full interview: https://www.lucyannlance.com/audio/082619/a2y.mp3