Young Women's Leadership Summit
Yesenia Grijalva and Shanee Kilpatrick are two women who put on the first ever Young Women's Leadership Summit 2015 at U-M Dearborn last week.  This event was created by the two women and inspired by their attendance to the National Conference for College Women Student Leaders (NCCWSL).  After their attendance, both Yesenia and Shanee wanted to share many of the skills and ideas that they'd learned with high school aged women.
After launching their idea, Yesenia and Shanee came across the Better World grant, which awards up to $10,000 for projects that are aimed at creating a better world.  They wrote a budget for $2500 and received this money to go towards the total expenditures necessary for the conference. With a focus on Admissions and Financial Aid, they contacted Career Services to speak about fields of study and possible careers.  Their plans also included a vision board, a keynote speaker, and a packet for each woman containing information with scholarship, ACT, and Bureau of Labor statistics.  All of this planning included lots of phone calls, emails, and meetings in order to organize these various aspects of the event.  The event itself proved to have been a product of a lot of hard work.  With break out sessions, a student panel, Tenisha Cherry as a keynote speaker and two meals provided, the event ran smoothly and effectively.
Plans for the YWLS 2015 are in the works, and the main goal is to have a larger turnout so that more high school women can utilize and benefit from the many informative and practical pieces of this conference.  Yesenia and Shanee did a wonderful job organizing this event out of personal experience and passion, and it proved to be an enlightening and beneficial event from what the many young women took away.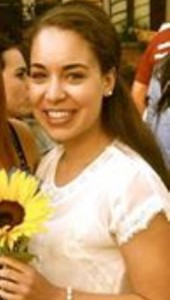 Celina  Romano, AAUW E-Student Affiliate
ARTICLES FROM 2013 NCCWSL SCHOLARSHIP RECIPIENTS
When I was younger, I had a myriad of aspirations and goals. The possibilities were limitless. By the time I began college, I thought the purpose was to go to class and earn a degree in a desired field. This degree would then earn me a position and help me make a living. When I went to the National Conference for College Women Student Leaders (NCCWSL), I was reminded of all the goals and aspirations I had before the drudgery of college life and classes began to weigh on me.
I began to reconsider what I was going to college for. Was I going to earn a living? Was I going in order to obtain a position? Or was I going to build a life? Was I going in order to obtain the resources necessary to accomplish something greater than myself? NCCWSL did not provide us the steps for how to be successful individuals. Instead, the entire conference was filled with nuances of "you can be" and "you can do" by  showing us other women that have not only overcome struggles, but triumphed over them, and succeeded in becoming something so much greater than what their degrees say they are. NCCWSL reinvigorated beliefs in me about opportunity and possibility that I had forgotten. By doing so, I have been driven to do more with the resources that going to college has provided me with.
The Young Women's Leadership Summit that another student, Shanee Kilpatrick, and I have developed is a conference geared towards encouraging young women to begin their college careers. We approached Shareia Carter, Director of the Women's Resource Center at University of Michigan-Dearborn, with our idea, and it gained momentum from there. We received funding for this event through the National Society of Leadership and Success, which both Shanee and I are members of, by winning the Better World Grant. This conference is to be held on March 22nd, and we hope that it will become an annual event. Without NCCWSL, we would not have gained the courage to pursue the start of this conference.
Yesenia Grijalva
I can say with confidence that NCCWSL changed my life. I was more than ambivalent to attend NCCWSL when a friend of mine first asked me to go. I have always been that student who focuses completely on academics and nothing else. After much thinking, I figured that I didn't have anything to lose. The conference was after graduation so I wouldn't have to worry about classes and the price was hard to turn down. The workshops at NCCWSL were eye opening. They covered such a wide array of  topics from how to give a speech to how to determine your leadership style. At NCCWSL I learned so much about myself and how I needed to empower others. During the 12 hour bus ride back to Michigan, I began thinking that someone should do this for high school girls. That they'd have an even better advantage if they received this information before they even stepped foot on a college campus. A few days went by and I sat on the idea, second guessing myself like always. I finally voiced my idea at the debriefing meeting and to my surprise was met with all sorts of positive responses. It was at this moment that I found out that Yesenia Grijalva (another NCCWSL attendee) had the same idea. So we teamed up with Shareia Carter, the director of the Women's Resource Center, to create Young Women's Leadership Summit 2014. The summit will be held at the University of Michigan-Dearborn's Fairlane Center (Quad F) from 9am to 3pm. We hope to have 75 girls from high risk backgrounds meet us for a day of empowerment. They will receive continental breakfast and lunch. They will also have access to multiple keynote speakers and workshops such as: translating your passion into a major, how to get into college,women in the field of STEM and more. Each participant will receive a certificate of completion at the end of the day. If I had not attended NCCWSL I would not have had the courage to even attempt to organize such an event.
Shanee' Kilpatrick, BA
Health Policy Studies-Health Behavior and Health Education
University of Michigan-Dearborn, 2013
College of Science, Arts, and Letters
A "Green" Insight Into Leadership
 Honestly, I didn't know what to expect from NCCWSL. I've heard pretty good things about it from some of my friends in AAUW and Women in Learning and Leadership (WILL), the academic social justice group on my campus, but I didn't really know what to expect. Upon the end of the winter semester, I had became the new Chair of the aforementioned social justice group — WILL. While I had desired to lead the group, honestly…I didn't know how to lead a group. I had expectations. I had guesses based on what others before me had done. However, I didn't know how I would lead a group — the member who essentially worked in the background was now [albeit by her merit] forced into the head position. I didn't know what I had gotten myself. With NCCWSL purported to a be conference for female college leaders, I figured that this conference would help give me a little insight.
Earlier in the subsequent fall semester, I was asked to speak on a panel of 2013 NCCWSL attendees and tell the donors of my trip what I appreciated the most from NCCWSL. I said the workshops. Particularly, the "True Colors" workshop. Now, why a mere a workshop out of all of empowering speakers, networking, and general invigorating activities that the conference offered? The workshop served a "light bulb" moment; an instance in which I truly realized something about myself that I hadn't before. Moreover, it answered my initial question — how was I as a leader? Green, apparently. One-hundred percent green. Being a "green" leader meant that I sought knowledge and understanding. I lived by own standards and demanded explanations and answers. I am the problem solver. I am analytical and I like the details (I actually enjoy statistics). I am often deemed as aloof and standoffish — which is not a false assumption by the way; I typically like to be alone — but I do care about people. I am "green." It is me. It is me to a "T." I was profoundly shocked at how well this color described me, amazed.
More than anything though, I was relieved. I had gained a newfound confidence in myself. Not that I was entirely skeptical about my competency to lead before, but this workshop, this color, assured me that it was possible for someone like me to effectively lead. Whenever I reminisce my experience at NCCWSL, the "True Colors" workshop is what always sticks out to me. I always knew there was a reason green was my favorite color.
                                                                                                                                          Imani Byrd