Thank you for the travel scholarship AAUW-Ann Arbor!
 Dear AAUW Ann Arbor Branch,
I wanted to respond to the Ann Arbor branch of AAUW about my May 28th – May 30th 2015 experience at NCCWSL. I had a great time, this experience has opened my eyes to issues I hadn't really noticed, and I learned many valuable lessons and feel the need to share them with others as well as younger women who are looking to be leaders. Thank you so much for the travel scholarship AAUW-Ann Arbor!  My letter to you is long, but I want to share my experience with you.
Traveling and Room Accommodations
I remember the bus ride there and not knowing anyone other than Lois, which was great because I had the opportunity to meet others and network. I didn't get much sleep, but I was too excited to notice. I wasn't sure what to expect, but Maryland and the University of Maryland was so pretty. Shortly after unpacking my things in the room, I waited for my roommate wondering if she preferred the bed by the window or bed by the door and what she was going to be like, where she was from, and how much we would have in common, but also what I could learn from her. I ended up not being assigned a roommate, which has its benefits – like no sleep interruption. I wouldn't say I was lonely because the minute I realized I didn't have a roommate I went strolling the hall to meet others on the same floor.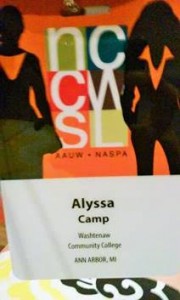 Instead of taking the campus tour, I took the time to get ready for the day's adventures, unpack and organize my outfits, and write notes for if I were to attend the conference again next year, which by the way I'd love to.
Our name badges- I was proudly sporting WCC
Day 1:  Opening Session: Finding Your Voice, Group Networking, and Women of Distinction Awards Ceremony and Reception
During the opening session, we were introduced to the leaders of the conference, and asked a series of questions that attendees had been asked every year since 1985. I remember being in this large elegant ball room surrounded by hundreds of women just like me from all over the U.S. and what a feeling it was! One of the questions asked was, "I believe I will see a woman as president in my lifetime. Stand if you agree, stay seated if you disagree." I stood and along with me stood nearly the whole room, except for a few women who stayed seated. A microphone went around and a few of us stated why we believed we would see a woman as president in our lifetime. After we all sat down, those who remained seated were asked to stand and then given a microphone to hear why they disagreed with those who stood. The questions asked were relevant and the responses were powerful. There was one question about confidence and whether we felt our confidence has grown during our college experience and one woman had stated that hers had skyrocketed because after this year she will be the very first transgender student to graduate from an all-woman's college. Towards the end, the feeling in the room was powerful, emotional, and became an imprinted memory.
After the opening session, we did group networking with the option to network in large groups, or small groups. I chose to network in a smaller group, not that it was my first choice, because the larger group was more appealing, but rather because I noticed I make more meaningful connections and have more time to network with others when I'm in a smaller group setting. We worked on our elevator speech, which I already had one, and met others in our group. I met a few women from U of M Dearborn who had also rode the bus. I also met with several other women from MI who happened to choose the same group. We became friends and would meet up with each other during lunch and dinner.
The Women of Distinction Awards Ceremony and Reception was inspiring. Just to be in the room with these women and hear their stories and how inspiring they were was touching and inspirational. The six women acknowledged were Amanda R. Simpson, Executive Director, Army Office of Energy Initiatives; Marcia Ann Gillespie, Magazine Editor and Writer; Debbie Sterling, CEO and Founder of GoldieBlox; Lynn Rosenthal, Vice President for Strategic Partnerships, National Domestic Violence Hotline; Miriam W. Yeung, Executive Director, National Asian Pacific American Women's Forum; and Elizabeth Acevedo, National Poetry Slam Champion. After the awards ceremony, we were given an opportunity to meet and greet with the women of distinction and the lines were very long. While waiting, I sat down beside two other women and we started talking. We talked for so long, that we missed our opportunity to meet the women of distinction. I'm glad I met them, because I ended up being an inspiration to one of them. Her name is Amanda and she was asking me about how I managed being a mom, wife, continuing education, and work. She was thinking about starting a family with her husband and was worried about being almost 30 and becoming a mom too late, but was reluctant because she hadn't finished her master's degree yet. She and I are religious, so I suggested she pray about it and I reminded her God wouldn't give her something she couldn't handle and He's always there when we have struggles. I also suggested that she finish her education first. It is possible to finish school while caring for a child, but it also makes it increasingly difficult. I asked her to evaluate her support system and which goal she valued more at this moment in her life: motherhood, or master's degree. I also reminded her not to feel guilty if she did in fact choose both motherhood and degree. She and I both knew she could do both, but I wanted her be prepared. We connected so quickly and it seemed like at every moment when I met someone it was a connection that was meaningful and valuable – something I've never felt before.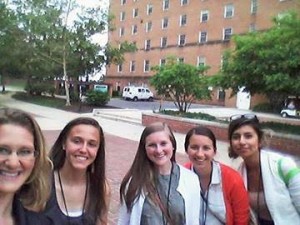 I met with several other women from Michigan. From the left to the right, me, (Alyssa Camp) Kelsey Fraley from Goshen       Indiana, Elizabeth DeGraaf from Spring Arbor University, Morgan Lee from Spring Arbor University, & Yuri from Jackson College in Jackson,MI.
I was tired, but I chose to head down to game night for a few moments and to see who else might be there. I started an UNO card game with seven other women, all of whom I had met earlier that day.
Day 2:  Bele Bele Rhythm Collective Performance, Keynote Speaker Maysoon Zayid, Workshops 1-4, Graduate School Fair, Career Fair and Exhibitors, Night in D.C.
The Bele Bele Rhythm Collective Performance was beautiful and I felt emotional towards the end. We learned the lyrics, "Funga Alafia. Ashay, Ashay." It means "welcome and blessings" and comes from West Africa's Nigeria and is sung in the Yoruba language. Other songs concluded their performance. I enjoyed this as the start of our day. Next, we headed to our workshop sessions. I was interested in many of the sessions offered, but narrowed it down and chose Beyond Being Busy: Developing Life-Work Integration as Women Leaders, Make No Apologies: Effective Communication for College Women Leaders, Wait, I can Keep Doing What I Love as a Career? Student Affairs as a Career Path, and Green Leadership: Moving beyond Double-Sided Printing. The booklet doesn't mention who is presenting the sessions, but the first session I chose ended up being presented by two women from the University of Michigan. It was ironic that I had traveled so far to hear a presentation by two women from a university that's right next door. After the session I had an idea that I shared with them and we shared contact information. I'm now going to meet with them for coffee and talk about my idea and how I can help. I took away many valuable lessons from the other sessions.
The night in D.C. was momentous. I learned what tappas were and tried them with three other women I met that day. I wanted to experience downtown D.C. by DuPont Circle, but also wanted to see some of the monuments. I was able to connect with Julia, who offered to show me around and we became friends. She was from the area and knew where she was going. I had never ridden the metro before and that was an experience I'll never forget. We rushed back to the bus waiting to take us back to the university and made it just in time. We both felt like we had a Cinderella moment as we ran across DuPont Circle and the moment we stepped on the bus the time was exactly midnight and we departed.
Thank you so much for the travel scholarship. I wouldn't have had transportation to and from the conference had you not sponsored me. I appreciate the Ann Arbor branch of AAUW!
Have a great summer!
  Alyssa Camp                                                                                                                                                                   Student Activities Leader                                                                                                                                       Washtenaw Community College