64rd Annual Used Book Sale Report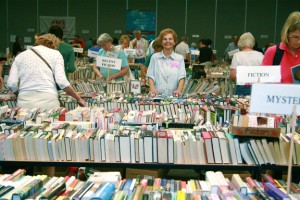 Thanks to all our members, the 64th annual AAUW Ann Arbor Branch Used Book Sale not only allowed us to raise thousands of dollars for scholarships, but it also gave us the opportunity to stay connected as friends throughout the summer. Many of you shared your time as on-site volunteers. This year, we also had the benefit of membership-wide email updates, enabling us to monitor the progress of our important philanthropic project. Snippets of information about our shared life-events enriched our friendships, and we could chuckle together over some of the items we found hidden among the book donations. At the Veterans Memorial Park Ice Arena, we were also able to welcome as many new members as wanted to come because there was no shortage of space to spread out or of work to do.
I suspect most of us found at least one book we "just had to buy" before the official sale. We book lovers enjoy "ploughing" through the variety of books, sheet music, and CDs that our generous donors dedicate to the cause of scholarships for women. Parties are important to us as we sort books. As every year, we began with a potluck. We celebrated once more at the end of book sorting with a call to help at the September book sale at WCC and a salad/dessert potluck. A sigh of relief at the end of the book sale left us happy that the work was over and thankful for pleasant memories.
If you are new to our AAUW Branch, I want to invite you to join us at next year's book sorting and sale. This project acts like an interest group, except it is an interest group that welcomes all of our members at the same time. While most of our interest groups are small, the size of the sorting space allows us to welcome all of our members. At our book sorting site, we sort book donations, and later sell them at WCC as our main fundraiser. We become unified in an important, common goal. To get more out of your membership, watch for more announcements concerning the book sorting and sale, beginning in May, and plan to spend a few hours or more with us this summer.
Pam Ehrhart and Ann Ringia
Book Sale co-chairs

Where does the money go?
Members of the Ann Arbor branch work hard virtually all year round to make our annual Used Book Sale a success, and through their efforts we raise thousands of dollars for scholarships for women.  Read Polly Pan's AAUW Funds Report for 2015 to find out exactly how we disburse all that money.