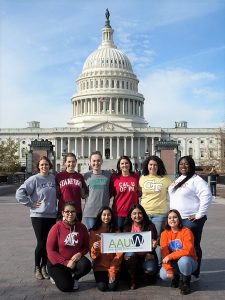 The National Student Advisory Council (SAC) is a council that serves as AAUW ambassadors.  This group advises AAUW staff on the needs of college students, leads gender equality projects on their campuses, and helps plan AAUW and NASPA's annual National Conference for College Women Student Leaders (NCCWSL).  This council allows college women to represent the voices of students, develop as leaders, network, and gain resume-building experience.
The group meets from October through June and works to solve many different women's issues.  This year's SAC is working toward closing the leadership gap between men and women and is also fighting for equal pay.  They are also organizing students on campuses across the country on critical issues such as ending sexual violence.                                             
Joining the Student Advisory Council is fairly easy and available on the site's webpage. The council gives $3.7 million annually in fellowships, grants, and awards that encourage educational and professional development, as well as resources for members facing employment challenges.  The council also helps to provide networking and mentoring opportunities, relevant and timely information on issues impacting women and girls, and the chance to build lifelong relationships. 
To learn more about the national Student Advisory Council go to https://www.aauw.org/what-we-do/campus-programs/national-student-advisory-council/.