Jean Ledwith King – Attorney, Activist, Advocate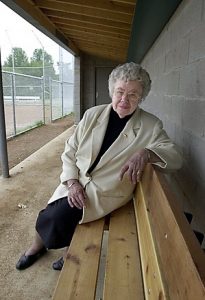 One of our most illustrious members, Jean Ledwith King has a long record of achievements as an attorney, teacher, political activist, and advocate for women.  Virtually from the time she graduated from Law School in 1968, she has been a leader in the struggle for equality in school and in the workplace.  Her work has been documented by the Michigan Supreme Court Historical Society.
King was inducted into the Michigan Women's Hall of Fame in 1989, and in 2011 about 300 people gathered to pay tribute to her at the Women's Center of Southeastern Michigan, which was renamed in her honor.  For the story of that event, and a biography, read the Ann Arbor Chronicle article.
King also was the fourth recipient of the Martha Griffiths Equity Award, established by AAUW of Michigan in 2008 to honor Martha Griffiths — a long-time U.S. Congresswoman who was the first woman to serve on the House Ways and Means Committee and on the Joint Economic Committee of Congress, and a two-term Lieutenant Governor of Michigan.
The Legacy of Eunice Burns (1923-2016)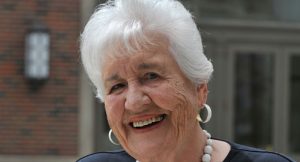 During her 62 years in Ann Arbor, Burns played many roles in civic life — including three terms as a member of City Council — and for much of that time she also served on the board of the Huron River Watershed Council (HRWC). In 1981, she co-founded Huron River Day, an annual preservation event emphasizing the importance of water quality.
On Burns' 90th birthday, then-Ann-Arbor-mayor John Hieftje proclaimed her the "Yes, You!" Torch Bearer for a lifetime of service.
Looking back on an unexpected but influential career, she advised young women to "find out what's going on and get involved with some part of it—you can start just licking envelopes. I remember the first door I knocked on when I was campaigning, and it got easier and easier after that. You just have to take the first step and see where it leads you. And at age 90, I still haven't stopped!"
Launched with a $35,000 gift, the Eunice Burns Fund for Water Policy Education supports educational and research activities at the Center for Local, State and Urban Policy (CLOSUP). The fund enables students, scholars, and the public to better understand the policy implications around sustainable methods of managing the world's supply of fresh water, and related issues associated with effective environmental governance.
The gift to the Ford School was also a gift to Eunice Burns from her children as a way to honor her steadfast commitment to her family, the U-M, Ann Arbor, and the environment. 
Click on the following link for the full story http://www.fordschool.umich.edu/news/?news_id=1240.